New Melon Patch Collection
Meet your newest obsession: our Melon Patch Collection! This new collection features all of your favorite travel items–from packing and cosmetic bags to coolers and beach bags–along with the most adorable pajama set and comfortable running shorts. Browse the whole collection below!
Monogrammed Expandable Travel Bag
Get ready to travel like a pro with this Monogrammed Expandable Travel Bag! With its expanding size, this weekend bag is perfect for the traveler that seems to always leave a trip with more than she came with.
Monogrammed Packable Garment Bag
Keep your cute clothes wrinkle-free and ready to go with this Monogrammed Packable Garment Bag! This garment bag is easy to carry, has a full-length zipper, and hangs perfectly making it perfect for traveling!
Monogrammed Packable Laundry Bag
Every traveler knows the benefit of sorting their clothes while on a trip! This Monogrammed Packable Laundry Bag will keep your worn clothes organized. Its lightweight yet strong mesh construction packs easily and takes up little space.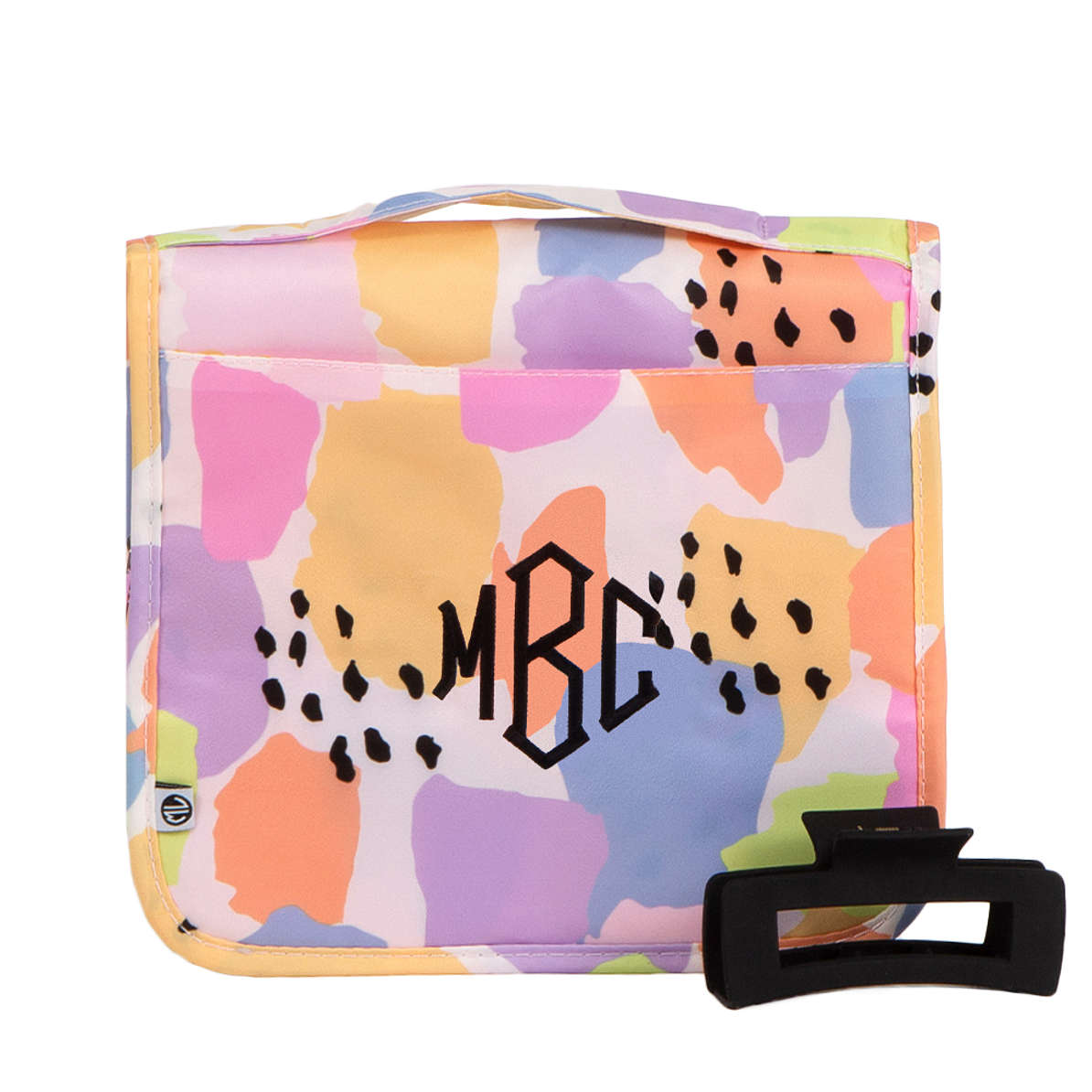 Monogrammed Packable Hanging Travel Case
Traveling has never been easier than with this Monogrammed Packable Hanging Travel Case! Perfect for all of your bathroom essentials at home or on the road! This bag can easily fit items such as shampoo, lotion, and makeup.
Monogrammed Packing Bag Set
Pack like a pro with this six-piece Monogrammed Packing Bag Set! Use these packing bags to keep your electronics together, your lingerie and socks in one place, and your tops and bottoms separated so they're easy to locate on your trip!
Monogrammed Packable Cosmetic Bags
These Monogrammed Packable Cosmetic Bags are just the right size for keeping your essentials secure! Perfect for storing in your purse, car, or bathroom, these bags are the best for keeping your belongings organized wherever you are!
Monogrammed Extra Large Tote Bag
Need room for everything?! This Monogrammed Extra Large Tote Bag will hold it all! This bag is a must-have for beach day excursions, poolside visits, and any other vacation trip. Perfect for staying organized while on the go!
Monogrammed Cooler Bag
Whether you're hitting the beach, tailgating for the big game, or picnicking with friends, this Monogrammed Cooler Bag is the perfect way to take snacks and beverages on the go! Keeps your favorite beverages icy cold or warm foods warm!
Monogrammed Wristlet
Keep your essentials on hand with this Monogrammed Wristlet! Whether you're using it to store accessories in your purse or using it as an everyday bag, this wristlet is perfect for keeping your stuff organized!
Monogrammed Insulated Wine Bag
This Monogrammed Insulated Wine Bag is a must-have for any wine enthusiast! Featuring an insulated interior and velcro straps that will hold two wine bottles in place. This bag is perfect for picnics, dinner parties, and beach trips!
Monogrammed Beach Backpack Bag
Meet your new go-to beach bag! This Monogrammed Beach Backpack Bag is easy to pack and take on the go with its adjustable shoulder straps, mesh construction, and drawstring closure. Perfect for lazy days at the pool or a day trip to the beach!
Monogrammed Pajama Set
Looking for the perfect loungewear?! Look no further than this Monogrammed Pajama Set! This set is comfy, cozy, and cute, making it perfect for lounging and sleeping. You'll wish you could wear this pajama set everywhere!
Monogrammed Running Shorts
Whether you're working out, running errands, or just lounging around, these Monogrammed Running Shorts are perfect for everyday wear! Featuring moisture-wicking fabric, an athletic short liner, and an elastic waistband.
*************
Which of these new items will you be adding to your collection?